Kids and needles? Most people would agree that this pair isn't a winning combination. Regina Oyarce, however, would say otherwise.
Oyarce, a Doctor of Oriental Medicine, a licensed acupuncturist, and owner of Benessere Miami, provides the city of Doral and surrounding areas with massage therapy, the much-acclaimed HydraFacial, and nutrition consultations. Although Dr. Oyarce is also a massage therapist and nutritionist, the nearest cause to her heart is helping adults and children through acupuncture. "Many people don't think of acupuncture as a treatment for children, but it is highly effective and has been practiced successfully for thousands of years," says Dr. Oyarce, "That's what I love about practicing traditional medicine."
What does pediatric acupuncture treat? ADHD, hyperactivity, asthma and breathing issues, digestion problems, and all kinds of allergies. For adults, the list includes depression, anxiety, sports injuries, chronic pain, infertility, insomnia, arthritis, sinus problems, skin conditions and is helpful for aiding in weight loss and overcoming addiction.
But to get back to the original issue, many people wonder how parents can convince their children to agree to this medical procedure. "Acupuncture does involve needles, but the needles are extremely tiny and virtually painless when combined with breathing techniques," says Oyarce. Dr. Oyarce explains that when the needles are placed carefully while a child exhales, the procedure is painless.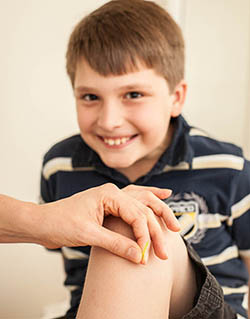 To get children to breathe deeply, Oyarce engages the child in a very helpful, yet familiar childhood activity: blowing bubbles. "Not only does bubble-blowing distract and entertain the child, it provides the comfort and deep breathing needed to ensure a painless procedure." Dr. Oyarce lights up when she talks about just how painless the procedure is when bubble-blowing and breathing techniques are used.
In her acupuncture treatments, Dr. Oyarce begins with an extensive and thorough consultation. It lasts anywhere from 30 to 40 minutes, and the patient's medical history, conditions, and symptoms are discussed and reviewed. After this consultation, Oyarce continues with the acupuncture treatment by inserting tiny needles at key points on the surface of the skin. These needles stimulate the body's self-curative abilities, and relieve many common childhood conditions like allergies, ADHD, and asthma.
"For many children, being relieved of these conditions changes their lives, and I'm so happy to be a part of that positive change," enthuses Oyarce.
heal your body and mind naturally!
Follow us on social media!