Acupuncture: An Effective Treatment for Neck Pain
Neck pain is a common ailment, in fact, almost everyone will experience some sort of neck pain or stiffness during their lives. Although neck conditions are very painful, many neck injuries are also very treatable. To understand the best treatment options, the source of neck pain must first be diagnosed. There are various causes for neck pain and stiffness, from ongoing stress to one-time injuries.
Certain occupations appear to be more predisposed to neck problems than others. Jobs that require repetitive tasks with upper extremities or that involve prolonged periods of sitting are at a higher risk for neck injury than other jobs. Additionally, workers and students that type at a laptop or computer more commonly develop postural-related neck pain.
Another common cause of neck pain is a whiplash injury. Whiplash often occurs in car accidents, when the head is suddenly jolted backwards. This kind of neck sprain causes the neck muscles and ligaments to stretch farther than normal, injuring them and causing a great deal of stiffness and pain.
Sometimes people develop neck pain that starts in the neck and radiates down into the arms, hands, and fingers. This neck ailment is often caused by a cervical herniated disc and pinched nerves.
Finally, neck pain or stiffness can simply be caused by everyday stress and tension. This kind of pain is often recurring and is located in the neck, shoulders, and down the back.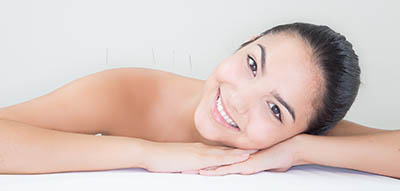 Treatments for neck injuries vary from massage to chiropractic treatment to medication. However, acupuncture has proven to be a very effective form of treatment for a wide range of neck problems.
Acupuncture is an ancient Chinese remedy for treating chronic ills like headaches, backaches, and neck pain. As with most of the medical traditions from the East, acupuncture is built on the concept of maintaining the balance of body elements like blood and nutrients along with less measurable elements like the energy force known as Qi. Maintaining this balance is the key to treating many pains, injuries, and illnesses in the body.
During an acupuncture treatment tiny needles are inserted at designated points on the body. These needles intercept or unblock the flow of the body's elements while sustaining the free flow of Qi. This restores balance and health in the body.
Dr. Regina Oyarce of Benessere Miami uses acupuncture to help relieve a variety of neck conditions and injuries. After an acupuncture treatment, her patients also receive a therapeutic massage treatment focused on the pain area. As a certified Neuromuscular Therapist, Dr. Regina Oyarce is qualified to focus on the cervical spine and cranium. She uses specific trigger point therapy to relieve muscle tension and knots. The combination of acupuncture and massage therapy provides both immediate and sustained relief of neck conditions.
"Restoring health is my number one priority, and acupuncture is a very effective treatment for doing so. With regular sessions, a patient's pain episodes become less frequent and less intense over time," says Dr. Oyarce.
To schedule an appointment with Dr. Oyarce or to learn more about her practice, please visit www.BenessereMiami.com or contact Benessere Miami at 305-599-0770.
heal your body and mind naturally!
Follow us on social media!