Acupuncture for Allergies
If spring & fall send your seasonal allergies into a spin, many experts say looking to Mother Nature for relief can be as comforting & easy as a day at the beach. Because the goal of acupuncture is to promote & restore the balance of energy, it can be used for a wide variety of conditions & it may be well worth a try for your allergy symptoms.
First developed by traditional Chinese medical practitioners based on the belief that life energy, called qi, flows throughout the body's pathways, acupuncture is able to treat a wide range of health problems. Originally the only cultures to practice acupuncture were those on the East side of the world, but since then it has gradually gained respect and acceptance by medical professionals in the West.  
A recent study conducted in South Korea examined the effectiveness of acupuncture for the treatment of chronic sinusitis and allergic rhinitis. For five weeks, subjects submitted to two 20-minute acupuncture treatments, administered by experienced traditional medical doctors with at least seven years of experience. Patients' symptoms and quality-of-life scores were assessed at the beginning of the trial, at its end, and again eight weeks after the beginning of the trial. Patients experienced statistically significant reductions in symptoms at five and eight weeks after the beginning of the trial and investigators concluded that acupuncture was clinically effective.
Allergic rhinitis affects an estimated 20 percent of the United States population. While patients can get relief using antihistamines and anti-allergy drugs, many people with seasonal allergies seek alternative therapies for symptom relief.
There is often a gratifying response to treating allergies with acupuncture. Patients often get some relief during the first visit while lying on the exam table with their acupuncture needles in place. After an initial series of treatments that varies from 5 to 10 treatments, patients come in for further treatments based on the severity of their allergies. Some patients come back once or twice a year for a booster while others may come at a more often rate. Together with the acupuncture, we also combine Chinese herbs and supplements. Many patients have failed medication and allergy shots yet respond well to acupuncture. Like they say, Mother Nature does it best.
TIPS
Avoid sugar and milk in diet
Be sure to drink about 8 glasses of water a day
Shower after spending time outdoors to remove built up pollen from skin and hair
Wear sunglasses to protect your eyes from pollen and mold spores
Moisturize to minimize the inevitable redness and irritation
Shower at night to rid your body of any pollen you picked up throughout the day
Skip that glass of wine. Alcohol increases blood flow to your nose, which can worsen the congestion you already feel.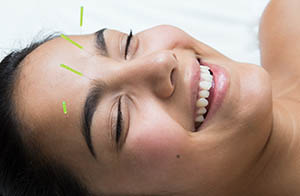 heal your body and mind naturally!
Follow us on social media!